The University of Johannesburg (UJ) has been ranked second in the sub-Saharan Africa region, according to the Times Higher Education (THE)'s new 2023 Sub-Saharan Africa University Rankings. The rankings, which were announced earlier this week, were officially launched as a new benchmarking system for universities in the region, and are the THE's first Africa specific rankings.
Universities in the sub-Saharan Africa region were last year invited to participate in the pilot edition of this new regional ranking system, and asked to submit data and evidence, and to distribute THE's student survey to their current students. A total of 121 universities participated in the data collection and submission.
Of those, 88 universities across 20 countries in the sub-Saharan Africa region received a rank in this first iteration (the 2023 edition). An additional 33 universities are listed because they provided data but did not meet THE's eligibility criteria to receive a rank. The 88 ranked universities have scores for all pillars and metrics, and an overall score and rank. The 33 listed universities with incomplete data have pillar scores but were not scored and ranked overall.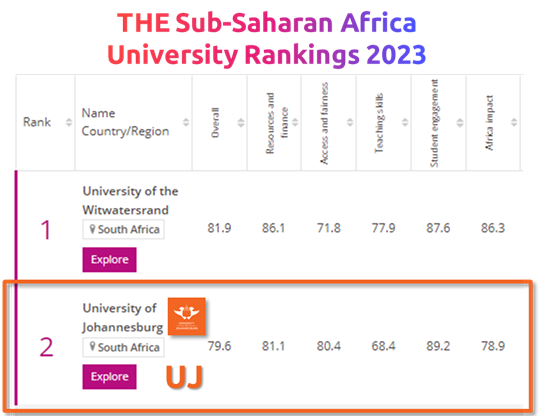 In total, 14 South African universities participated and nine of them met the eligibility criteria and were ranked. Four South African universities made the top 10. UJ has been ranked #2 in the sub-Saharan Africa region and in South Africa.
This ranking uses and follows a hybrid methodology that covers five key areas, called pillars: resources and finance; access and fairness; teaching skills; student engagement; and Africa impact. Each of the five pillars has several metrics assigned to it. In total, 24 metrics were assessed. It is underpinned by data and evidence provided directly by universities, bibliometrics data supplied by THE's partner Elsevier, and student survey responses from THE's student survey for the sub-Saharan Africa region. The student survey collected the opinions from more than 20 000 students at 88 universities in the sub-Saharan Africa region.
To read more about the THE's new sub-Saharan Africa University Ranking, here are some useful links:
News Articles: