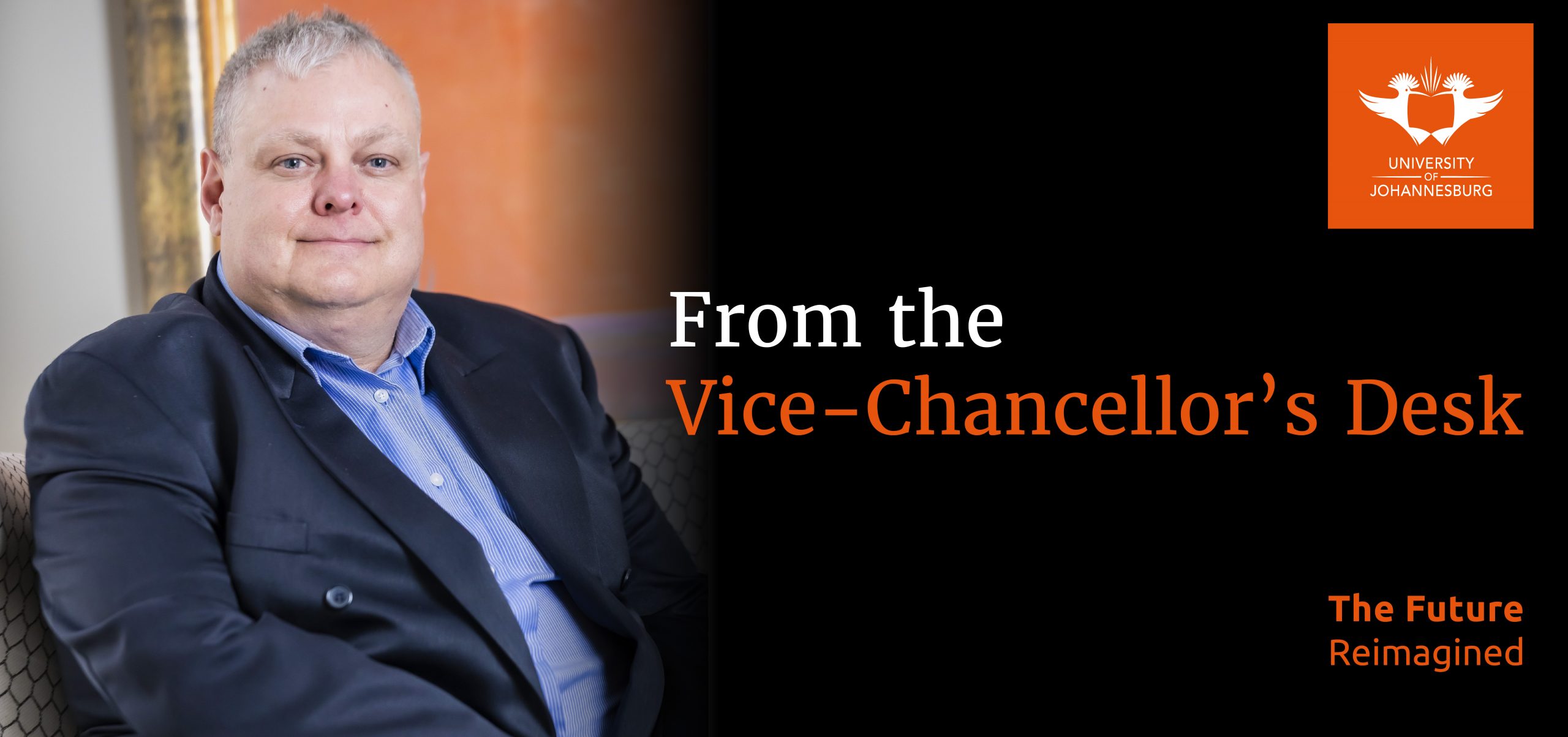 Dear UJ Community,
This is the first time I address you as the Vice-Chancellor and Principal (Acting). Although I am only in this role for a week, it is an opportunity that I embrace. You can imagine how excited I was when Professor Letlhokwa Mpedi asked me to stand in for him earlier this week. Prof Mpedi is currently on a working trip to Caucasus University (CU) in Tbilisi, Georgia. He is accompanied by Dr Nolitha Vukuza (Senior Executive Director: University Relations, Student Affairs & UJ Sport), Prof Rodny Ylva-Gumede (Senior Director: Division for Internationalisation), and Prof Kammila Naidoo (Executive Dean: Faculty of Humanities).
Honorary Doctorate for Prof Mpedi
During the visit, Prof Mpedi delivered a keynote address on Exploring the ethical and legal implications of artificial reproductive technology. The highlight of the visit was when Prof Mpedi received an Honorary Doctorate from CU and its president, Prof Kakha Shengelia. On behalf of the UJ Community, I congratulate Prof Mpedi on this recognition! UJ has a longstanding friendship and partnership with CU, and we are truly honoured to take our collaborations forward.
UJ students continue to receive medical and counselling support after bus accident
As a University, students are at the core of our business and their safety and wellbeing is our primary concern. Therefore, we reiterate our concern that several UJ students were on one of the two buses involved in the accident in front of the Auckland Park Kingsway (APK) Campus on Monday. Initial assessments indicated that three students  were taken to hospital, and while 16 others received counselling on campus. Subsequently, more students that were affected by the incident have reached out to us.
Through our Centre for Student Health & Wellness, supported by Occupational Health Practice, and working closely with the Centre for Psychological Services and Career Development (PsyCAD), we will continue to provide medical and counselling support to the affected students. The Central SRC were also instrumental in supporting students after the incident. We wish all injured students a speedy recovery. Our thoughts and best wishes go to them and their families.
Employees wellness
Speaking of this, our University yesterday hosted a wellness seminar under the theme, Employee Wellbeing and Psychological First Aid for Leaders. The seminar, which was targeted at managers, was the initiative of the Wellness Unit in collaboration with Employee Relations and Life Health Solutions. Its objective was to engage leaders and equip them with tools to provide support and care when most needed.
A key aspect of the seminar was understanding that employee wellbeing is important to create an enabling environment for employees to thrive in, both personally and professionally. Leaders also got to participate in a rapid lifestyle health screening session, using the innovative Robotic Health Station. I wish to thank Ms Tokoza Kwinana (Executive Director: Human Capital Management) and Dr Mpoti Ralephata (COO) for this important event. I trust that those who attended found it insightful and useful.
New UJ news website

As we know, the revolution in digital technologies has had a profound impact on the way we share and consume news. To this end, I am thrilled to announce that the University will soon launch a new website to showcase our inspiring student and staff stories, groundbreaking research and engaging multimedia content!
The new website, which has been developed by the Strategic Communications within the University Relations, is a user-friendly platform that will offer a seamless browsing experience, keeping you up to date with the latest developments across our diverse faculties and departments. Thanks to Dr Vukuza and her team for this outstanding project. Be sure that you #StayConnected.
High Tea with the VC
It was a pleasure to attend the latest High Tea with the VC event this past week on Friday, when Prof Mpedi hosted Jonathan Ancer for a discussion of his book, Mensches in the Trenches: Jewish Foot Soldiers in the Anti-Apartheid Struggle.
Remote working and labour laws
It was also fascinating to read Prof Mpedi's latest article in the Daily Maverick titled The way we work and legislation must evolve quickly. In it, he argues that the normalisation of remote working, post the Covid-19 pandemic, calls for amendments to our labour laws to include a clear definition of what this entails, the rights and responsibilities of both employers and employees in these arrangements, and addressing issues such as working hours, leave and data security. I urge you to read this interesting article.
Baie dankie, ke a leboha, ngiyabonga, thank you!
Mr Dries Pretorius: Vice-Chancellor and Principal (Acting)
Times mentioned in this newsletter refer to the South African time-zone.