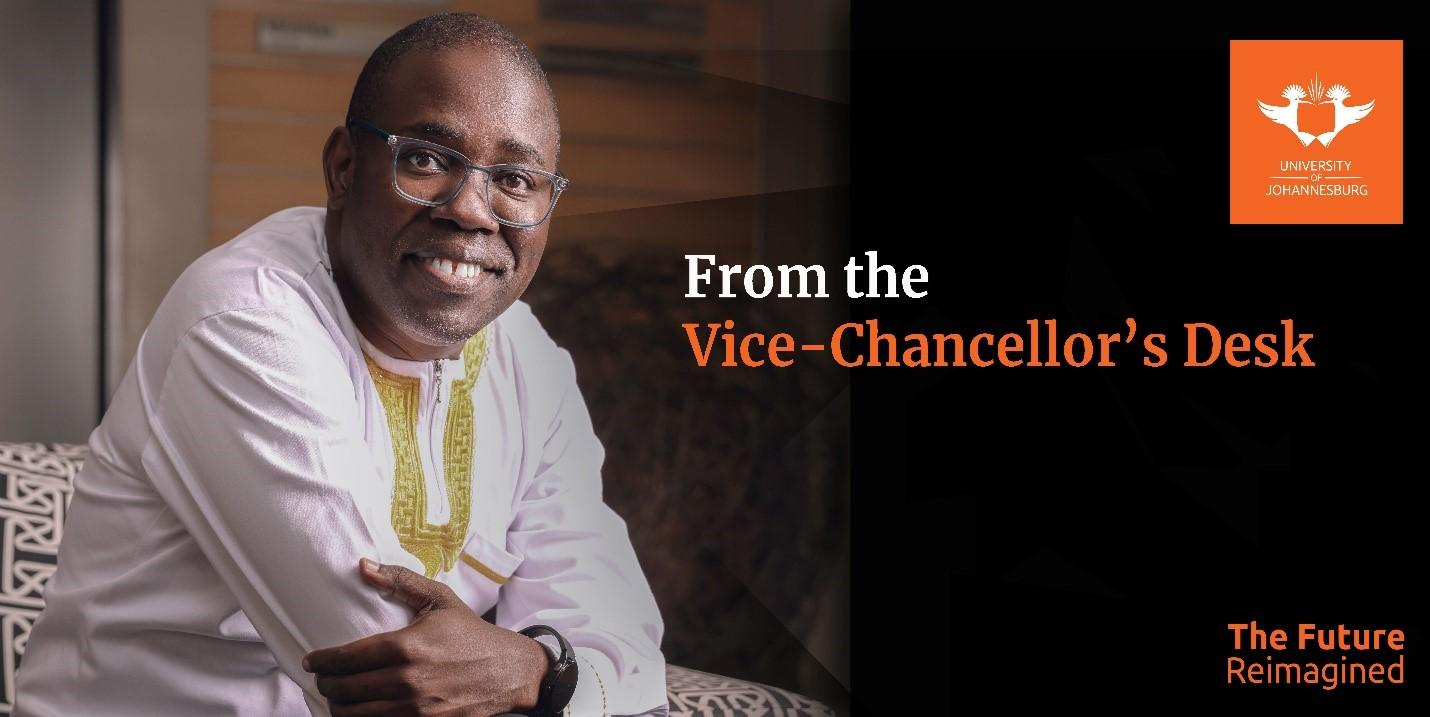 Dear UJ Community,
After a three-week break for the mid-semester recess, our students and academic staff returned to campus this week. It has been wonderful to revel in the vibrancy of our campuses once again, despite the cold weather in Johannesburg and many parts of the country in recent days. I hope you have returned refreshed and re-energised for the remainder of the semester.
Launch of the Creative Microbiology Colab (CMRC)
Yesterday, I had the pleasure of attending the Creative Microbiology Colab (CMRC) launch at the FADA Gallery. The CMRC is an inter-faculty collaboration that produces creative work at the intersection of microbiology, visual representation, and creative practice. It was founded by Professor Leora Farber, Director of the Visual Identities in Art and Design (VIAD) Research Centre in the Faculty of Art, Design and Architecture (FADA), and Prof Tobias Barnard, Director of the Water and Health Research Centre (WHRC) in the Faculty of Health Sciences.
This is the first exhibition of biotechnological art to be held in South Africa and on the African continent. I highly recommend visiting this groundbreaking exhibition from 21 July to 19 August 2023. The artworks are visually stunning, thought-provoking, and offer a unique perspective on the relationship between art and science. For more information, please visit www.viad.co.za.
UJFM broadcast license renewal
In case you missed it, our award-winning radio station, UJFM 95.4, recently had its broadcast license renewed for the next five years. This will ensure that we continue to provide a cutting-edge news platform that informs, educates and entertains our University community and our audiences within the Greater Johannesburg Metropolitan area and Gauteng.
The license renewal reaffirms our commitment to providing students with access to practical training and real-world experiences in the broadcasting industry. I thank the Station Manager, Mr Anathi Sidali, the presenters and the crew for their outstanding work. Special thanks also goes to Dr Nolitha Vukuza (Senior Executive Director: University Relations, Student Affairs and UJ Sport) for providing the necessary guidance and leadership to the UJFM team. To read more about this, click here.
UJ Senior Men's Football team achieves historic promotion   
In another exciting development, the UJ Senior Men's Football team achieved a significant milestone with their promotion to the SAFA ABC Motsepe League. This is after the team was crowned champions of the 2022/23 SAFA Johannesburg Regional League Blue Stream in June. The SAFA ABC Motsepe League currently serves as South Africa's second division and the overall third tier of football. This means that our hopes to gain promotion to the Premier Soccer League are well and live!
I wish to congratulate Ms Nomsa Mahlangu (Senior Director: UJ Sport), the technical team and the players on this achievement and for supporting and growing UJ Sport. Once again, a hearty thanks to Dr Vukuza for her outstanding leadership in another of her portfolios!
Nelson Mandela Month
July is celebrated as Nelson Mandela Month. This is an important time when we reflect on Mandela's values and principles, which encourage us to make a positive impact in our communities. Our Community Engagement (CE) Unit within University Relations has ramped up its initiatives to encourage our staff and students to give their time, talent and resources back.
It was encouraging to see the CE team leading various initiatives across the four public hospitals in our city in celebration of Nelson Mandela International Day on 18 July. The team also has a number of activities planned for Nelson Mandela Month. These include daily campus clean-up and recycling activities as well as visits to community-based organisations to offer support where needed. Any form of donation can be dropped off at the CE offices or at the main gates of each campus. For more information on how you can participate in Nelson Mandela Month activities, please contact the CE Administrative Officer, Ms Deedry Grundling on deedryg@uj.ac.za or 011 559 6470. Watch a video message on this, below:
MySchool and School Days
Our University is now part of MySchool and School Days, which are community loyalty programmes that allow individuals to support schools and universities' fundraising initiatives. Please consider registering for the programmes and selecting UJ as a beneficiary. When shopping at a participating retail partner, a portion of the purchase amount will be donated to UJ at no cost to you! All donations will be allocated towards the UJ Feed-a-Student Programme. With over 4000 students that are part of this programme, every sign-up and donation will go a long way in ensuring that our students in need get a helping hand. To join MySchool, click here. For School Days, click here.
Professorial Inauguration
Congratulations to Professor Franck Adekambi from the School of Economics  on his Professorial Inauguration on July 18, 2023. The title of his lecture was "Recent Developments in Risk Theory". Prof Adekambi, we look forward to many more valuable contributions from you! You may watch the live stream of the inauguration here.
Exploring the Implications of Ghost Employees
My latest article appeared in the Daily Maverick yesterday about the emergence of ghost employees as a major occupational fraud hazard. In this piece, I explore new and pervasive forms of fraud and unethical behaviour, which can hinder social progress and exacerbate inequality. The article is through the lens of ghost employees or individuals who are fraudulently added to an organisation's payroll but do not actually work there. To read more on this topic and my recommended interventions, click here.
High Tea with the VC
Finally, I remind you to join me for High Tea with the VC this afternoon, for a book discussion with Jonathan Ancer on his book, Mensches in the Trenches: Jewish Foot Soldiers in the Anti-Apartheid Struggle, which tells the unrecorded stories of some Jewish activists during apartheid and the essential, if seldom publicised role that they and others like them played in bringing freedom and justice to our country. Ancer is a journalist, editor and author who has won awards for breaking news, feature writing and creative writing.
He has also written The Victor Within, Spy: Uncovering Craig Williamson, Betrayal: The Secret Lives of Apartheid Spies and Joining the Dots: The Unauthorised Biography of Pravin Gordhan. As usual, the event will take place at the Chinua Achebe Auditorium, Level 6, Auckland Park Kingsway Campus, at 14h00 (CAT). You may also join us virtually via Zoom by clicking here.
Ke a leboha, ngiyabonga, baie dankie, thank you!
Professor Letlhokwa Mpedi: Vice-Chancellor and Principal
Times mentioned in this newsletter refer to the South African time-zone.