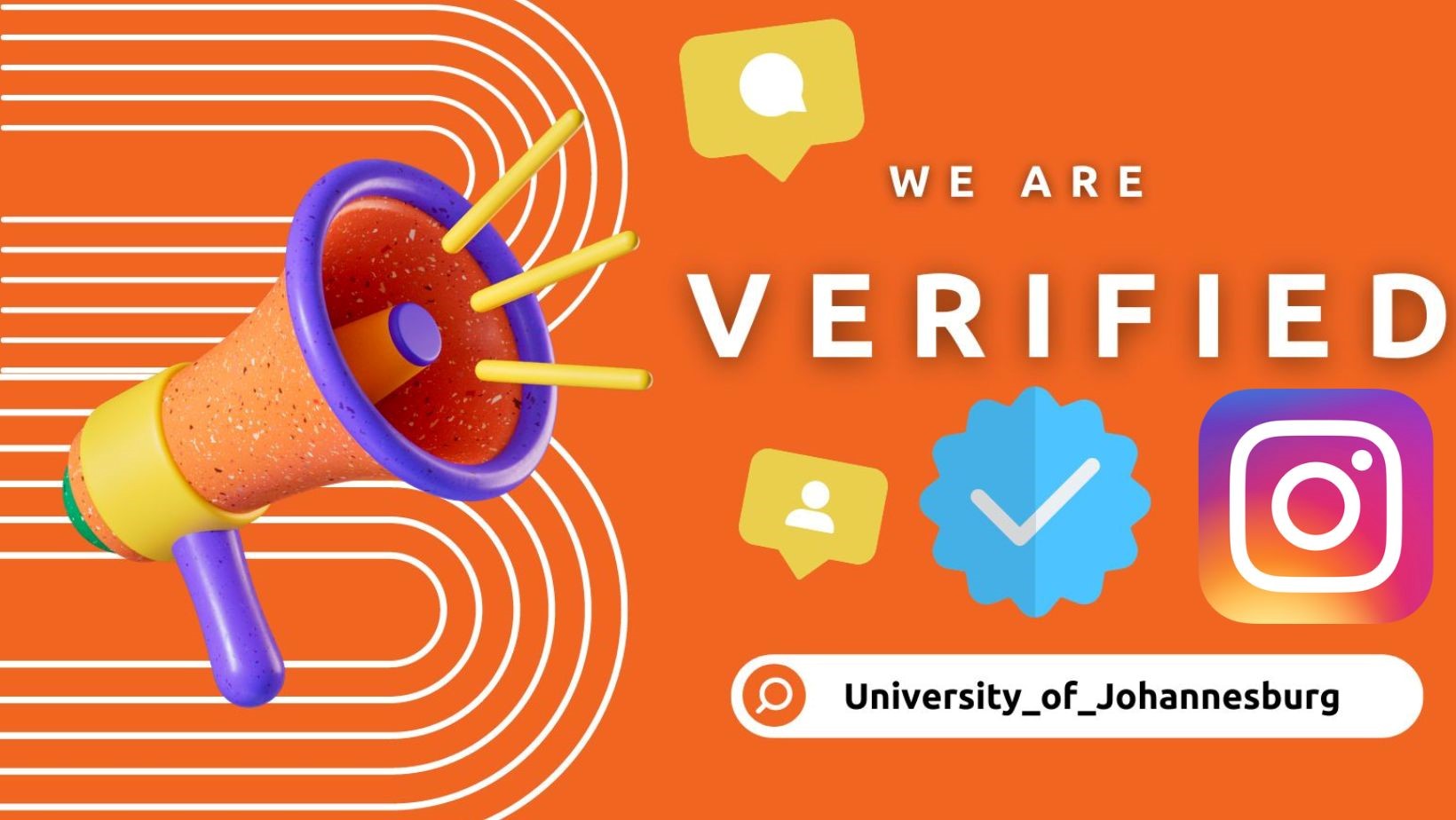 In a landmark achievement, the University of Johannesburg (UJ) has become the first university in South Africa to receive the highly sought-after verification badge on Instagram.
The verification badge, a blue tick mark, is a symbol of authenticity and credibility on Instagram. It indicates that an account is the official presence of a public figure, brand, or organisation. While numerous celebrities, public figures, and brands have earned this distinction, UJ has now made history as the first higher education institution in South Africa to join this elite group.
"This achievement highlights the importance of harnessing the power of social media to engage with students and the broader community, reinforcing UJ's commitment to being at the forefront of technological advancements and digital communication," said Lesmarie Bentley-Steyn, Senior Manager: Marketing and Brand Management at UJ.
"Instagram's rigorous verification process demands authenticity, uniqueness, completeness, and notability. Meeting these stringent requirements reflects UJ's esteemed reputation and influential presence," added Bentley-Steyn.
Verification badge enhances UJ's online presence
With the verification badge, UJ's official Instagram account gains increased visibility and trust amongst its followers, as it sets the account apart from impersonators and copycat accounts. This recognition further enhances the university's online presence and positions itself as an international university of choice anchored in Africa.
"We are absolutely thrilled with the accomplishment," said Michelle Radikariki, Manager: Social Media & Marketing Projects at UJ. "Obtaining verification on Instagram represents a remarkable milestone for the university. It underlines our unwavering dedication to embracing digital platforms and pioneering inventive ways to interact with our students and stakeholders. This recognition further reinforces our standing as a forward-thinking university that harnesses technology to forge meaningful connections."
An engaging platform to showcase UJ
UJ's verified Instagram account, with the handle @University_of_Johannesburg, already boasts a substantial following, consisting of students, alumni, faculty, and members of the public. The account offers an engaging platform to showcase UJ's academic and research achievements, campus life, community initiatives, and other notable events.
Through its verified Instagram account, UJ will be able to reach a wider audience and promote its academic programs, admissions, and campus events more effectively. The university's commitment to social media engagement has played a significant role in fostering a sense of community and belonging among its diverse student body.
As a pioneer in South African higher education, UJ continues to embrace innovative approaches to education and actively leverage digital platforms to connect with students in meaningful ways. The verification on Instagram is just one example of the university's ongoing efforts to adapt to the ever-changing digital landscape and position itself as a leader in the education sector.