Dear UJ Community,
It is heartening indeed that each week brings its fair share of good news! Following on our University's historic achievement last week, where UJ was announced as the largest contributor of accredited research output in the South African Higher Education sector (according to the report released by the Department of Higher Education and Training), it is with immense pride that I can announce that UJ is now ranked amongst the top 50 universities globally (at position 46) by the 2023 Times Higher Education (THE) Impact Rankings, released yesterday.
This means that we are not only the top-ranked university in South Africa but have also reclaimed our position as the top-ranked university in Africa. Quite impressively, UJ is ranked number 1 in the world for Sustainable Development Goal (SDG) 1 – No Poverty. UJ is also recognised in the top 100 universities in the world for seven SDGs.
A record 1 707 institutions from around the world submitted data and evidence to participate in the 2023 iteration of the THE Impact Rankings, which are the first to measure the progress of universities across the globe towards the 17 United Nations (UN) SDGs. The rankings recognise and shine a spotlight on universities for their commitment and contribution to sustainability, societal impact and innovation based on the SDGs. They include 18 tables – one for each of the 17 individual SDGs and one overall ranking. Overall, UJ ranked in the top 100 universities in the world for seven SDGs. In total, 1 591 universities have been ranked in the overall impact ranking table this year, 181 more than the previous year.
It is gratifying to see that our University has once again been recognised for its significant contribution to societal impact, sustainability and innovation through the SDGs. We are very proud of this achievement and excited to see greater output from our scholars in the near future. The University will continue to support and strengthen research around Global Excellence and Stature (GES), the fourth industrial revolution (Industry 4.0), but this time, with an even greater emphasis on societal impact, through GES 4.0  for Societal Impact.
Recognition for UJ in NSTF Awards
Please join me in congratulating four of our researchers who have been shortlisted as finalists in the 2022/2023 National Science and Technology Forum (NSTF – South32 Awards). Known as the 'Science Oscars' of South Africa, the NSTF Awards are now in their 25th year of celebrating and recognising outstanding contributions to science, engineering and technology (SET) and innovation in South Africa. The awards recognise experienced scientists, engineers, innovators, science communicators, engineering capacity developers, organisational managers/leaders, and data as well as research managers. The UJ finalists are:
Prof Samuel O Oluwafemi (Project Leader: Nanomaterials Synthesis and Applications Laboratory, Department of Chemical Sciences) – TW Kambule-NSTF Award: Researcher
Prof Soraya P Malinga (Associate Professor and Co–Director: Joint Research Centre for Water, Environmental Science and Technology) – Engineering Research Capacity Development Award
Dr Fidele Tugizimana(Lecturer and Research Scientist: Department of Biochemistry) – TW Kambule-NSTF Award: Emerging Researcher.
Prof Refilwe Nancy Phaswana-Mafuya– Professor: Epidemiology and Public Health, Faculty of Health Sciences; and Director: South African Medical Research Council (SAMRC) – Communication Award.
Being a finalist in these national awards is a significant achievement as they are the most comprehensive and sought-after of their kind in South Africa. I wish all the finalists the best in the finals. The Awards Gala Event will take place on 13 July 2023.
UJ academics awarded Fulbright Scholarships
I would also like to congratulate our colleagues Prof Dustin van der Haar (Academy of Computer Science), Prof Habib Noorbhai (Faculty of Health Science) and Dr Lunga Shabalala (Faculty of Humanities) for being awarded Fulbright Scholarships, including the Emory Fulbright fellowship to the USA. Colleagues, we are excited for you and proud of this well-deserved recognition for the fascinating work you do!
Strengthening collaborations with strategic partner universities.
Last week was a very busy week in terms of our internationalisation project. I was delighted to host the University of Illinois Urbana-Champaign Chancellor Robert J. Jones and his team and to renew our longstanding collaboration agreement. We deliberated on our common Africa strategy and focus on diversity, equity, and inclusion. Equity and inclusion was also the overarching theme in our discussions on joint programmes in teaching and learning with our colleagues visiting from Carleton University in Canada.
This week, Prof Jan Neels, a Distinguished Professor and Director of the Research Centre for Private International Law in Emerging Countries (Faculty of Law), hosted a conference on African Principles on the Law Applicable to International Commercial Contracts: an African Perspective. This event brought together law experts from across the world, with strong representation from DIRCO. As a lawyer myself, I was delighted to open this conference and share my views on the importance of an African Perspective in international commercial law.
I was delighted to host the Department of International Relations and Cooperation (DIRCO) Director General, Mr Zane Dangor. Together with Dr Vukuza (Senior Exeutive Director: University Relations) and Prof Ylva Rodny-Gumemde (Senior Director: Division for Internationalisation), we reflected on how the work of DIRCO aligns with our own strategic internationalisation priority areas.
UJ academic appointed to Mintek Board
Please also join me in congratulating Dr Takalani Madzivhandila, who has been appointed by Cabinet to the Board of Directors of the Council for Mineral Technology (Mintek). Mintek, as an entity of the Department of Mineral Resources, is entrusted with the mandate of promoting mineral technology, fostering industry establishment, and developing a capable workforce in the fields of science, engineering and technology. Dr Madzivhandila, we wish you all the best in this exciting role.
New era for UJ communications
This week also marked another momentous occasion in our University's history with the launch of a new broadcasting platform, UJTV. UJ is only one of the few universities in South Africa to have a TV station, highlighting how quick we have been to catch up with this online trend. UJTV will broadcast on our YouTube channel every Monday, Wednesday and Friday at 12:00 pm. Viewers who are not able to watch can still access content thereafter.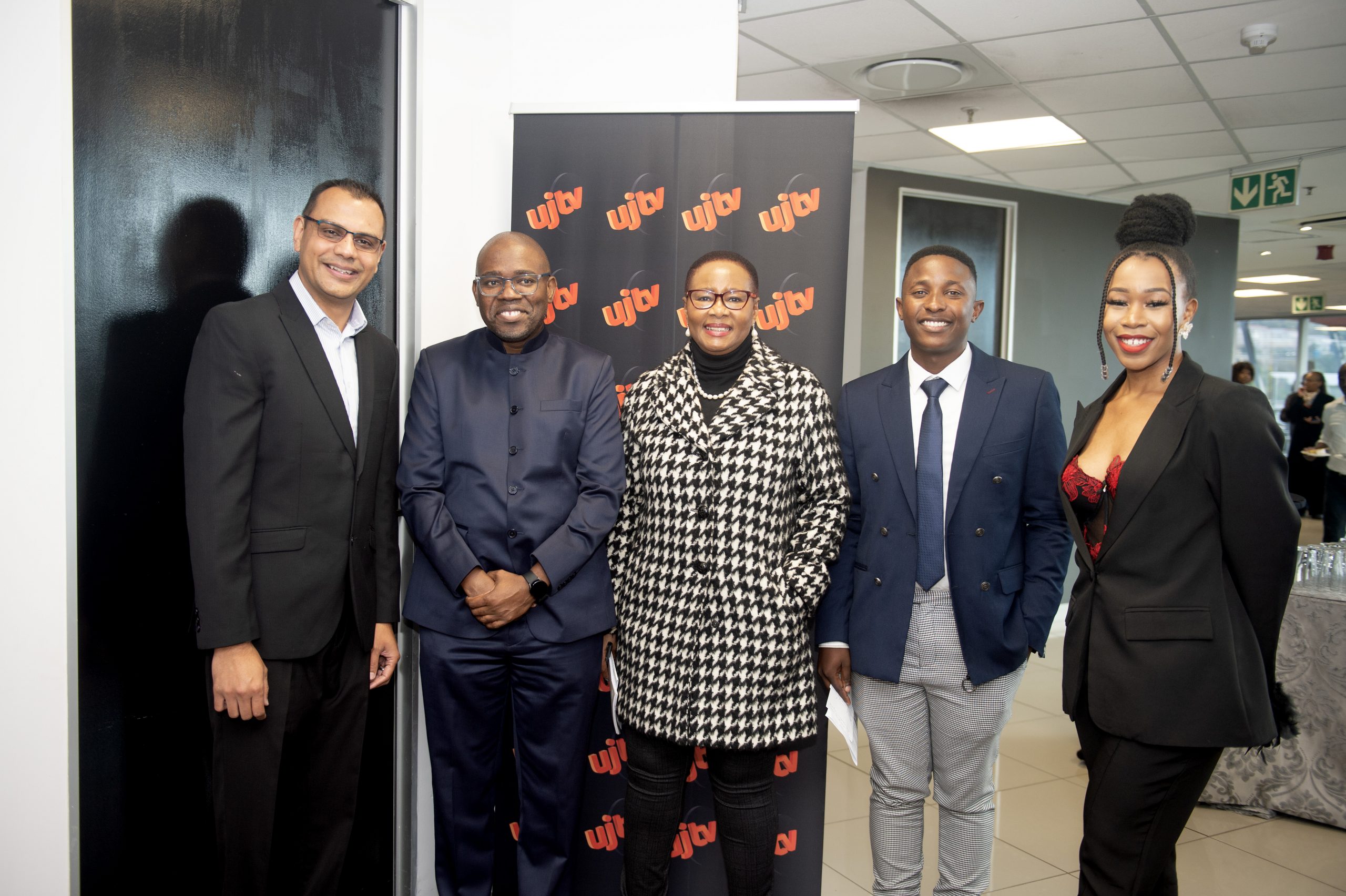 The station will bring you quality, in-depth educational and intellectually stimulating content, including interviews with the University's leadership, as well as lifestyle, welfare and sports content. Our first episode, featuring UJ Sport top athletes, goes live today. To watch the UJTV teaser video, subscribe to the YouTube channel by clicking here. I express my gratitude to all the departments who contributed to the development of this project, with special recognition to Dr. Nolitha Vukuza, Senior Executive Director: University Relations, and her team for their leadership and initiative.
Still on media matters, the Division for Teaching Excellence has been recording a series of podcasts on topics that are essential for academic staff development. The first podcast features Dr Kirti Menon and Prof Jenny Clarence-Fincham as they discuss the process of developing a teaching portfolio and the rationale behind its development. The video and voice podcasts may be accessed via the following links: Video podcast on developing a teaching portfolio; Voice podcast on developing a teaching portfolio
Ethical gene editing
Finally, to stay up-to-date with my latest article, simply click here to access it. In this piece, I explore the crucial topic of ethical gene editing and where we should draw the line. With the potential for creating 'designer babies' looming, I delve into the importance of regulation in this process. As I have argued recently on this platform, the law has to keep up with technological developments.
Kea leboha, ngiyabonga, baie dankie, thank you!
Professor Letlhokwa Mpedi: Vice-Chancellor and Principal
Times mentioned in this newsletter refer to the South African time-zone.