The Professorial Inauguration of Professor Franck Adekambi took place on Wednesday 18 July 2023 at the University of Johannesburg (UJ) Ubuntu Chambers at the Auckland Park Kingsway Campus.
Professor Adekambi,  a Full Professor of Actuarial Science at the university's School of Economics presented his inaugural professorial lecture to an audience of esteemed guests.  The title of his address was, Recent developments in Risk Theory.
Entry in a community of esteemed scholars
Deputy Vice-Chancellor: Academic, Professor Sehaam Khan played the role of Vice Chancellor for the lecture and shared that a professorial inauguration marks the entry of to the community of scholars.
"Today we gather to bear witness to the entry of Professor Adekambi to the illustrious community of scholars at the University. It is a celebration of the contributions to the discipline and ultimately, the impact on society.  Professors provide a university with its identity, character, academic legitimacy and integrity," Professor Khan said.
She added that this is an important rite of passage for an academic: "The inaugural lecture is a rite of passage following the confirmation of the appointment of the person as a professor. This evening, we will listen to Professor Adekambi as the 'gown goes to town'. By this I mean that the power of the inaugural address is when the expertise is showcased beyond the corridors of the university and reverberates with society."
Professor Adekambi has published extensively in peer-reviewed journals, and his work has been cited over 1,000 times. He is a member of the South African Statistical Association and the Actuarial Society of South Africa. He is also a reviewer for several academic journals.
His research interests include risk theory, ruin probabilities, compound distributions, and reinsurance amongst others.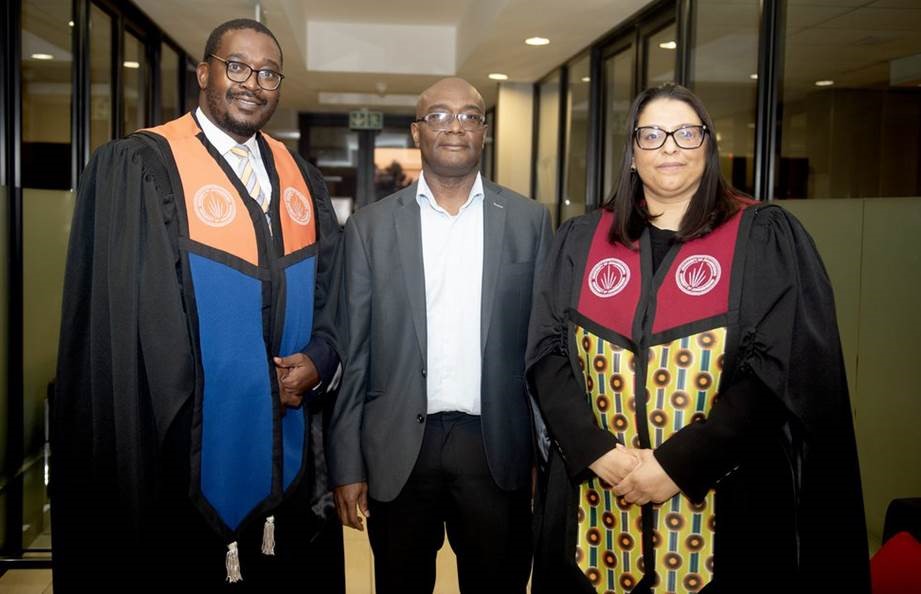 Origins of Actuarial Science
An actuary by profession, Professor Adekambi began his lecture by briefly introducing the field of Acturial Science and its origins.
Professor Adekambi shared that the main role of an actuary is to design the management and control of insurance products among other things.
"The actuary plays an important role in the "design", the management and the control of the insurance products, income, insurance schemes and collective insurance, as well as social security programs, with millions of people depending on their current and future financial security."
He added that that the field of actuarial science can be traced back to the nineteenth century.
"In London, the first Institute of Actuaries formed around the turn of the nineteenth century, while in Edinburgh, a Faculty of Actuaries was established at the same time. Actuaries are primarily influenced by the maritime industry on this side of the Atlantic," he said.
Professor Adekambi used the rest of his lecture to expand on his research interest, Risk Theory.
After Professor Adekambi's address, Professor Runhuan Feng, the State Farm Companies Foundation Professor of Actuarial Science and Director of the Actuarial Science Program at UIUC, gave a brief response.