Mathematics education, while often unpopular among students and educators alike, can be made easier through the integration of digital tools.
This is the assertion made by Professor Mdutshekelwa 'Mdu' Ndlovu, Vice Dean Research & Postgraduate Studies, Faculty of Education at the University of Johannesburg (UJ) during his professorial inauguration which took place on Wednesday, 7 June 2023, at the Ubuntu Chambers, Auckland Park Kingsway Campus.
Prof Ndlovu has dedicated his life's work to mathematics education. In his address, entitled, ''Harnessing digital resources to ensure inclusive and equitable quality mathematics education for all in the 4IR era", he highlighted the connection between enhancing the perception of mathematics and integrating digital tools to boost students' confidence in approaching the subject.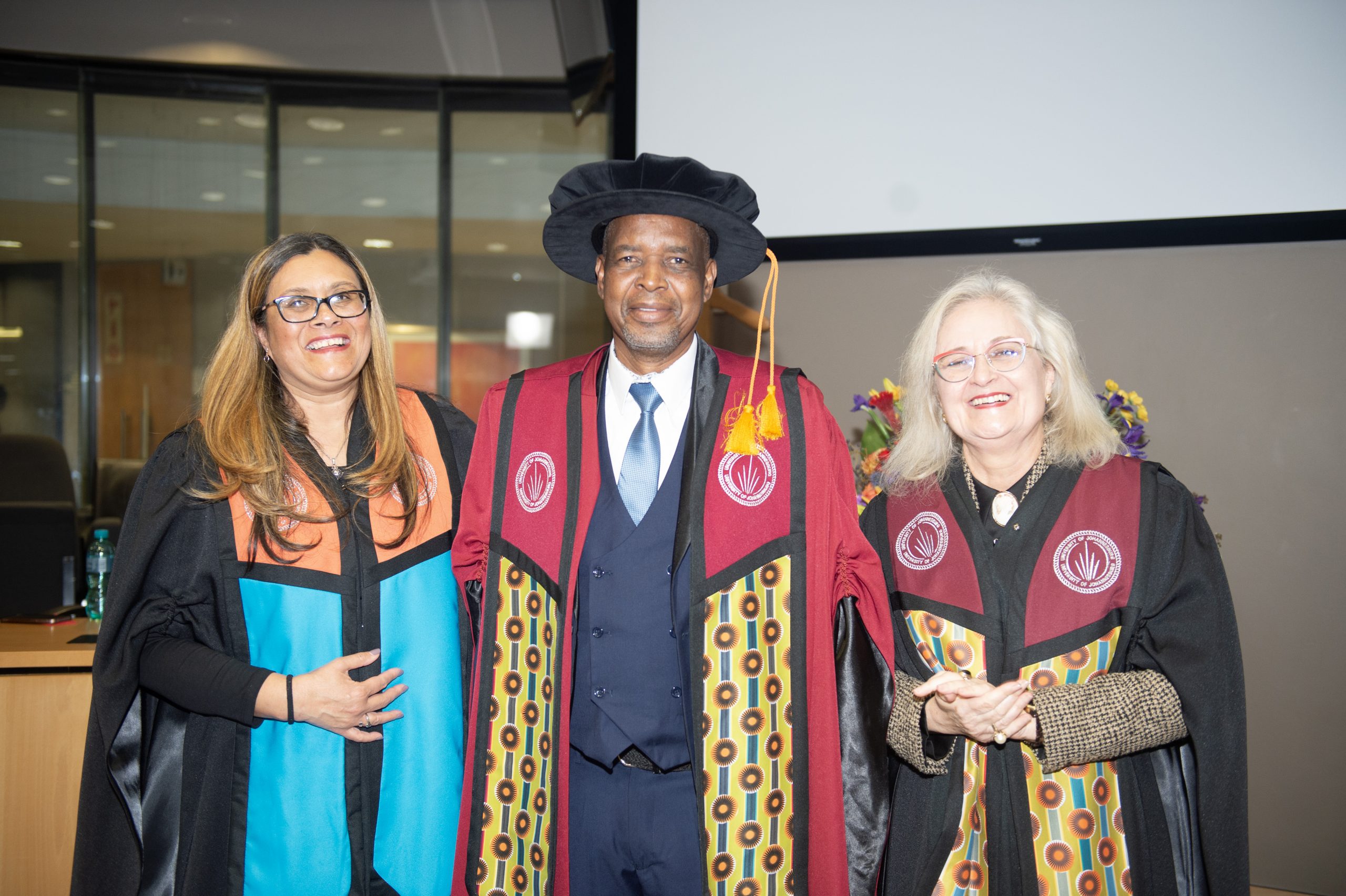 Hate it or love it, mathematics is here to stay
He shared that often, the cycle on how mathematics is perceived has created an opinion about mathematics being the least likeable subject in the curriculum.
"It is alleged that future teachers go through primary school learning to hate it, they go through secondary school learning to avoid it, and it is not a requirement for entry into teachers' colleges unless one wants to major in the subject. Teachers go back to school to teach a new generation of learners to hate the subject".
Prof Ndlovu said that his research focuses on how mathematics as a gateway subject to high exchange careers can be made more accessible to a greater number of learners. "By its very nature, mathematics promotes the development and mastery of not just problem-solving skills, but also critical thinking skills and complex communication skills," he said.
Digital tools in mathematics education
Prof Ndlovu shared that the gains made by the introduction of the Emergency Remote Teaching and Learning (ERTL) necessitated by the COVID-19 pandemic, have made a strong case for Education 4.0, which is where digital tools come in. 'Learning Management Systems such as Blackboard, Moodle, Sakai, Google Meet, Google Classroom, and conferencing tools like Zoom, MS Teams, etc., are popular digital resources with affordances for use as online communication platforms in mathematics classrooms."
Examples of apps that can be used in the classroom include "Dynamic Geometry Software (DGS) also known as Dynamic Geometry Environments (DGEs), Dynamic Digital Tools (DDTs) or Dynamic Mathematics Software (DMS). Typical examples of these digital resources include Geometer's Sketchpad, GeoGebra and Cabri available as open source, licenced, or online resources".
Future Directions
Prof Ndlovu said in the short to medium term, he will continue to focus on ICT integration into STEM education generally and more specifically in mathematics education. "I see my research developing an increasing emphasis on the use of virtual and augmented reality as well as artificial intelligence tools to bring about social impact in the form of social justice epistemic justice, epistemological and cognitive equity in a fast-changing world of the 4IR era".
Professor Ndlovu's credentials and research contributions
Professor Ndlovu is an NRF rated Professor of Mathematics Education in the Department of Science and Technology Education (SciTechEd). He has presented his research at local (e.g. AMESA, SARMSTE, etc.) and international conferences (in South Korea, Spain, Turkey, China, Germany, France, etc.) bringing into sharp focus the importance of integrating ICTs in mathematics education but also highlighting the digital divide between developed and developing country contexts, advantaged and disadvantaged learning environments.
He has published and continues to supervise Honours, Masters and Doctoral candidates in this niche area including pre-service teachers' competencies in and beliefs about technology integration in the teaching of mathematics.
To date he has published more than 50 pieces of work, the majority of which speak to ICT use and integration.
Professor Ndlovu addressed Acting Deputy Vice Chancellor for Research and Internationalisation standing in for the Vice Chancellor, Professor Sarah Gravett  and the Executive Dean of the Faculty of Education, Professor Nadine Petersen as well as invited guests.
Following his address was a brief response by Prof Dirk Wessels,  Professor Extraordinaire in Mathematics Education Stellenbosch University.
Watch the official inauguration here: